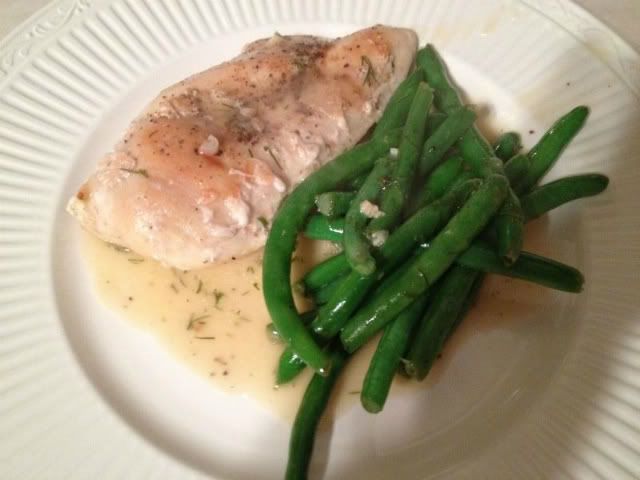 When I came home from work the other night, I was so hungry but I wanted to make something light. I made this Lemon-Dill Chicken with green beans that was quick, delicious, and most importantly, healthy. I love the refreshing taste of lemon and dill in the sauce. It's the perfect weeknight meal.
Lemon-Dill Chicken with Green Beans
Serves 4
;
Weight Watchers Points Plus: 4
Ingredients:
4 boneless, skinless chicken breasts, (1-1 1/4 pounds)
Salt & freshly ground pepper, to taste
3 teaspoons extra-virgin olive oil, or canola oil, divided
1/4 cup finely chopped onion
3 cloves garlic, minced
1 cup reduced-sodium chicken broth
2 teaspoons flour
2 tablespoons chopped fresh dill, divided
1 tablespoon lemon juice
1 pound French green beans, ends removed
Instructions:
1. Season chicken breasts on both sides with salt and pepper. Heat 1 1/2 teaspoons oil in a large heavy skillet over medium-high heat. Add the chicken and sear until well browned on both sides, about 3 minutes per side. Transfer chicken to a plate and tent with foil.
2. Reduce heat to medium. Add the remaining 1 1/2 teaspoons oil to the pan. Add onion and garlic and cook, stirring, for 1 minute. Whisk broth, flour, 1 tablespoon dill and lemon juice in a measuring cup and add to pan. Cook, whisking, until slightly thickened, about 3 minutes.
3. Return the chicken and any accumulated juices to the pan. Add the green beans to the pan. Reduce heat to low and simmer until the chicken is cooked through, about 4 minutes. Transfer the chicken and green beans to a warmed platter. Season sauce with salt and pepper and spoon over the chicken and green beans. Garnish with the remaining 1 tablespoon chopped fresh dill.